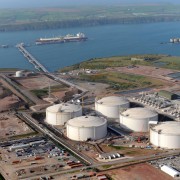 Qatar Petroleum is preparing to submitting plans to build a power plant at the South Hook terminal. South Hook is the Europe's largest liquified natural gas (LNG) terminal, and run by Total and ExxonMobil.
Qatar supplies virtually all of the UK's LNG needs through the South Hook terminal, and is now planning the development of the 500 megawatt combined heat and power (CHP) plant. The plan will run on imported natural gas, and excess power will be sold back into the UK's national grid.
This volatility is what traders profit from. Open a free $100,000 demo practice account today with Ava FX, one of our Recommended GoldOilSilver Brokers.