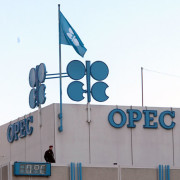 OPEC, the Organization of Petroleum Exporting Countries, has voted to maintain output levels, thereby keeping the price at around $100 per barrel.
OPEC members currently make up 40% of the world's oil supply, producing around 30 million barrels per day.
The organization must carefully consider their supply limits, as supply has a direct result on the price per barrel. If the price is too high, it can hurt global economic growth, however if the price is too low, it will hurt OPEC profits. So they need to find a delicate equilibrium between supply and demand. OPEC sets their targets based on production, not on price, but obviously price is the largest determinant in their output levels.
There is much infighting in OPEC, where the larger members like Saudi Arabia and Iraq favor higher production levels (so around $80 per barrel levels) whereas Venezuela and some of the smaller members prefer to keep oil prices around $100 per barrel. Each previous OPEC meeting has centered around this debate.
Brent Crude Oil prices have fallen faster than their US West Texas Intermediate (WTI) rival as Europe has been hit hard since 2011 and in a strong recession. Brent is much more common in Europe.
This volatility is what traders profit from. Open a free $100,000 demo practice account today with AvaTrade, one of our Recommended GoldOilSilver Brokers.