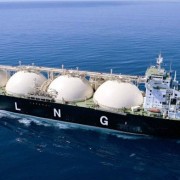 Angola is planning to open their first liquified natural gas (LNG) terminal in June 2012. Operated by Chevron, the facility will country's natural gas, mostly from Angola's offshore gas and oil fields.
The LNG facility is located near Soyo, and has been under development since 2008 by Chevron with a cost of $10 billion with a maximum output of 1.1 billion cubic feet of natural gas per day. Angola has large gas and oil fields located offshore along the entire coastline. Chevron's projects are located near Soyo too, so in prime position to receive their tankers.
Other major partners in the terminal are Total, Eni, and BP — all operating in Angola's offshore fields.
A limiting factor in the expansion of production in the existing gas fields is poor local demand. However with the LNG terminal, Angola can begin aggressively exporting liquified natural gas. Chevron also operates a LNG terminal in Mississippi, so this would make a prime export location where it will be sold to the US. However the US is currently over-supplied with natural gas and very competitively priced, so this option no longer seems viable.
Angola is not the only country developing their LNG capabilities. Mozambique — through partner Anadarko Petroleum — are also beginning to construct a terminal to take advantage of their large natural gas deposits offshore.
This volatility is what traders profit from. Open a free $100,000 demo practice account today with Ava FX, one of our Recommended GoldOilSilver Brokers.