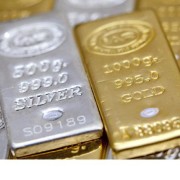 Is the US Federal Reserve stopping monetary stimulus? Investors are afraid they are, and as a result Gold prices are falling to a 2-week low and down 17% so far in 2013. The US economy is getting stronger, climbing out of the current recession, which may signal that the US no longer has the need for further stimulus.
The Feds issue quantitative easing to stimulate to economy, however the side effect of pumping money into the economy is inflation. Gold is still the best hedge against inflation, and rose to all-time highs in 2011 of $1,913.50 per ounce.
Chinese investors have slowed down their purchases of gold-backed investment products. Chinese is the 2nd largest purchaser of gold, behind fellow Asian superpower India.
August Gold Futures fell to $1,393 per ounce, the largest decline since May 17th.
July Silver Futures fell to $22.24 per ounce, the largest decline since May 15th.
July Platinum Futures fell to $1,461 per ounce, the biggest fall since 2008.
This volatility is what traders profit from. Open a free $100,000 demo practice account today with AvaTrade, one of our Recommended GoldOilSilver Brokers.