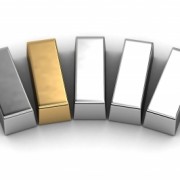 Gold prices fell by the largest amount in a week as the US Dollars strengthened. Since gold is priced in USD, as the USD strengthens gold becomes more expensive for people not holding USD, such as Europeans or Asians.
The markets were also reacting to concerns that the US Federal Reserve might not take more aggressive measures to stimulate the economy. When they do, the Fed typically adds more money into the economy, which causes inflation. Gold is the best hedge against inflation, so its value rises with inflation.
Employment services provider ADP released their figures today, which showed more hiring in the US than previous months. This news indicates a strengthening US economy.
The Euro fell to a 1-month low against the USD as the European Central Bank lowered its interest rate to a record low 0.75%.
Gold August futures fell 0.8% to $1,609 per ounce — the biggest drop in a week.
Silver September futures fell 2.1% to $27.67 per ounce.
Platinum October futures fell 0.9% to $1,477 per ounce.
Palladium September futures fell 2.2% to $585 per ounce.
This volatility is what traders profit from. Open a free $100,000 demo practice account today with Ava FX, one of our Recommended GoldOilSilver Brokers.