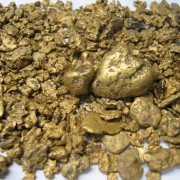 Warren Buffett, the head of investment firm Berkshire Hathaway and arguably the world's best investor made fun of falling gold prices today, as gold hits a 2-year low. Many hedge funds – Buffett's rivals – have experienced big losses this week. John Paulson's major hedge fund lost $1 billion this week in the fall.
Buffett has strongly cautioned investors at buying gold, warning that gold is not a good or service, so it cannot generate revenues like a company. Instead it becomes a purely speculative investment, with strong correlations to worldwide risk appetite and an inflationary hedge. Buffett described this best during a letter last year:
What motivates most gold purchasers is their belief that the ranks of the fearful will grow. During the past decade that belief has proved correct. Beyond that, the rising price has on its own generated additional buying enthusiasm, attracting purchasers who see the rise as validating an investment thesis. As 'bandwagon' investors join any party, they create their own truth — for a while… If you put your money into gold or other non-income-producing assets that are dependent on what someone else values that in the future, you're in speculation. You're not into investing.
Buffett has not always been strongly against commodities speculation, earning $100 million in 2007 on strategic silver purchases.
This volatility is what traders profit from. Open a free $100,000 demo practice account today with Ava FX, one of our Recommended GoldOilSilver Brokers.