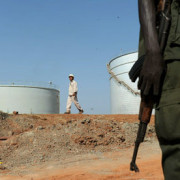 Sudan is once again threatening to cut off oil pipelines from South Sudan accusing the South of backing separatist rebels in Darfur and the border regions of Southern Kordofan and Blue Nile.
South Sudan – the world's newest country – relies heavily on their oil production for revenues, however they have no export capabilities. They currently rely solely on pipelines to Red Sea shipping terminals in Sudan. But when tensions rise, Sudan threatens to cut off the oil pipelines. Current flows from the South are 370,000 barrels per day. There is also a pipeline under development through Kenya, bypassing Sudan entirely.
South Sudan's president Salva Kiir has stated that the shutting down of the oil pipelines is an act of war.
President Omar Bashir of Sudan is claiming to possess specific information proving the South's backing of the rebel groups, and given them 60 days to cease support or the pipelines will be closed. This will once again put the two Sudans on the brink of war.
A major dispute in 2012 over pipeline royalties also say the pipeline shut down for 15 months, only resolved in April 2013.  South Sudan oil fields are still not back to full production, which is estimated to be in Sept 2013. So the latest tension could continue to hurt oil production levels in the region.
Sudanese Information Minister Ahmed Bilal Osman said, "It is clear that the purpose of supporting the rebels is to bring down the regime, which is why we have to stop the petrol. We asked them to stop their support so that it wouldn't affect all the agreements that were signed," giving South Sudan 60 days to comply before shut-down.
South Sudan has denied supporting the rebels, but tensions remain and both sides have a strong military presence in the border regions of Southern Kordofan and Blue Nile. These semi-autonomous states are part of South Sudan, however the north disputes this. There is considerably oil reserves in the region, so both sides are very keep on controlling them.
This volatility is what traders profit from. Open a free $100,000 demo practice account today with AvaTrade, one of our Recommended GoldOilSilver Brokers.