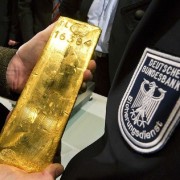 Bundesbank, the German central bank, is bringing back 674 tons of gold currently held in New York and Paris. The move will take many years but is intended to increase public confidence in German economy.
The gold bullion is work about €27 billion ($36 billion). Germany currently has 374 tons in Paris' Banque de France s and 300 in the New York Federal Reserve. They will now be moved to Frankfurt. There are also German gold reserves in the Bank of England, however this bullion will remain there.
Countries hold gold reserves in foreign nations as a way to quickly buy foreign currencies. However Germany and France now share the Euro, so a reserve in Paris is no longer necessary. In addition, Germany has totally overshadowed Paris as a global financial center.
Germany holds the 2nd largest gold reserves in the world totaling 3,391 tons, or €138 billion. The US holds the largest reserves.
This volatility is what traders profit from. Open a free $100,000 demo practice account today with Ava FX, one of our Recommended GoldOilSilver Brokers.