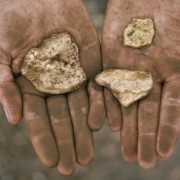 Colombia is planning to auction off plots of land all the way from the Pacific Ocean to the Amazon jungle. These plots are expected to hold deposits of gold and copper, with additional actions in 2013 for reserves holding coltan, uranium, and platinum.
The goal of this auction is to gain more foreign investment. Colombia's mining industry has not grown as fast as their oil industry, which brought in a record $13.2 billion in foreign investments in 2011. This was also due to very detailed information on potential reserves before auctioning off oil rights.
The government plans to auction of almost 21 million hectares of land zoned for mining. The success of this auction may be limited, however, as there is not very much information on the estimated reserves. This may slow down interest from foreign gold and copper producers.
This volatility is what traders profit from. Open a free $100,000 demo practice account today with Ava FX, one of our Recommended GoldOilSilver Brokers.